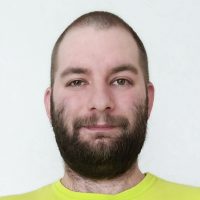 Juraj Grečnár
GRADUANT
PROFESSIONAL FOCUS
augmented reality, new media, application creation, open data, user testing, soft skills development
EDUCATION
2017 – persists, PhD. (ongoing study), European studies and politics, Comenius University in Bratislava, dissertation thesis: Augmented reality as a medium of distribution of information in the European area

2012 – 2014, Mgr., mediamatics, library and information studies, University of Žilina, diploma thesis: Database solution for processing industrial heritage of the Slovak Republic

2009 – 2012, Bc., mediamatics, library and information studies, University of Žilina, bachelor's thesis: Interactive communication environment for people with autism
RESEARCH PROJECTS
2019 – 2023, participant of APVV-18-0479: Research of key competences for the knowledge society in the context of historical, social and economic specificities of the Slovak Republic.
2019 – 2021, participant of APVV SK-PT-18-0011: Capture of mechanisms and presentation of intangible cultural heritage with emphasis on the use of new media BDIAS.
SELECTED FIELD PRACTICE
2005 – persists, freelance developer of internet and mobile applications (selected references: National agency for European educational programs, NextBig, Ringier Axel Springer, Irisoft, become)
2016 – 2017, lecturer at Azet Academy, Ringier Axel Springer SK, a.s.
2013 – 2015, analyst, project manager of Business Intelligence, Kros a.s.
VOLUNTEERING
developer, member of the organisational team, member of the Board of Presidencies, OZ GEO. GURU Association of Slovak Geocachers, Bratislava
Vice-President,Administrator, OZ MedUp, Žilina
Verifier of challenges in the field of education, sport and local development, Ľudia ľuďom, n.o., Bratislava
Community Volunteer, Translator and Internet and Mobile ApplicationTester, Groundspeak Inc., Seattle
Animator of leisure activities, camps manager for children and youth, OZ Domec, Žilina