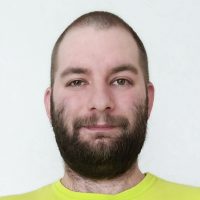 Juraj Grečnár
lecturer & study advisor
PROFESSIONAL FOCUS
augmented reality, new media, application creation, open data, user testing, soft skills development
EDUCATION
2017 – 2022, PhD., European studies and politics, Comenius University in Bratislava, dissertation thesis: Augmented reality as a medium of distribution of information in the European area
2012 – 2014, Mgr., mediamatics, library and information studies, University of Žilina, diploma thesis: Database solution for processing industrial heritage of the Slovak Republic
2009 – 2012, Bc., mediamatics, library and information studies, University of Žilina, bachelor's thesis: Interactive communication environment for people with autism
RESEARCH PROJECTS
2019 – 2023, participant of APVV-18-0479: Research of key competences for the knowledge society in the context of historical, social and economic specificities of the Slovak Republic.
2019 – 2021, participant of APVV SK-PT-18-0011: Capture of mechanisms and presentation of intangible cultural heritage with emphasis on the use of new media BDIAS.
PREVIOUS WORK
2005 – persists, freelance developer of internet and mobile applications
2016 – 2017, lecturer at Azet Academy, Ringier Axel Springer SK, a.s.
2013 – 2015, analyst, project manager of Business Intelligence, Kros a.s.
VOLUNTEERING
developer, member of the organisational team, member of the Board of Presidencies, OZ GEO. GURU Association of Slovak Geocachers, Bratislava
Vice-President,Administrator, OZ MedUp, Žilina
Community Volunteer, Translator and Internet and Mobile ApplicationTester, Groundspeak Inc., Seattle